Friday, August 8, 2008 09:47:53 AM
Posted By Dann
With the opening ceremony for the games of the XXIX Olympiad only hours from taking place in Beijing, the city is accommodating more foreign dignitaries than ever. Australia's contingent gathered last night for a function in the ballroom of the reasonably priced Beijing Sofitel, where Australian Olympic coaches named who would be leading the team into the opening ceremony.
The five-time Olympian seemed confused about what he had been chosen for, responding to questions about the token gesture by saying 'It is the mateship, the camaraderie, the spirit of the ANZAC, it is that sort of culture, when the chips are down, you fight your hardest, when the going gets tough you start to fire up.'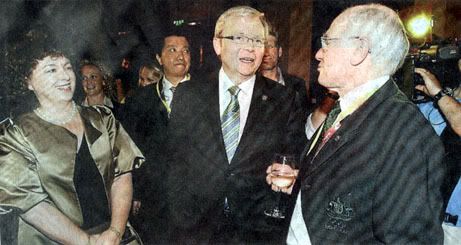 Mrs Rudd, Prime Minister Kevin Rudd and former Prime Minister John Howard (Fairfax)
Meanwhile, former Prime Minister John Howard sported a gaudy blazer and enjoyed complimentary beverages while avoiding current Prime Minister and rival Kevin Rudd. When Mr Rudd noticed Mr Howard in the crowd, he approached Mr Howard to shake hands and say hello. Mr Rudd then took to the stage himself to lead the room in a half-hearted cheer of 'hip, hip, hooray.'
Excerpt of Prime Minister Rudd's speech. (ABC)
Despite his less-than-enthusiastic presentation to athletes, Kevin Rudd is known to be a keen sports fan, attending local events when ever possible. It is speculated, however, that he is more interested in enjoying the snacks available at the venue than he is in the performance of the teams on field.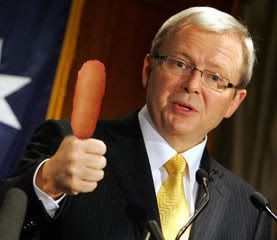 Kevin Rudd with Dagwood Dog (News Limited)
It is unclear whether Dagwood Dogs will be available at official Beijing Olympic sites.