Friday, July 24, 2009 06:24:53 PM
Posted By Dann
Almost a month after
his death
, Michael Jackson is still making headlines around the world. While Britain's
The Sun
has responded to the King Of Pop's death with its
usual
calibre
of
journalism
, even Australian local papers have not been devoid of reportage.
Speculation over Jackson's sexuality, the terms of his will, and discussion of CNN footage of what was speculated to be a ghost inside Jackson's Neverland Ranch have been surprisingly more prevalent than claims by Australian former bodyguard to the star that Michael Jackson had been the target of predators.
Wayne Galley, who worked for Jackson and his family in 2003, told Leader Newspapers that 'there were a lot of predators out there wanting to get a piece of him.'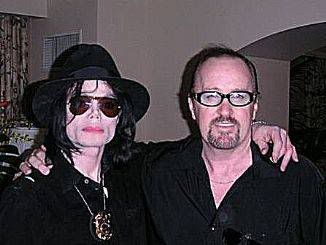 Michael Jackson with Wayne Galley (Leader News)
Mr Galley says that although he learned to be streetwise on the mean streets of Reservoir, he was hired by Michael Jackson because he was good with children, and talks of escorting the family trick or treating in Las Vegas at Halloween.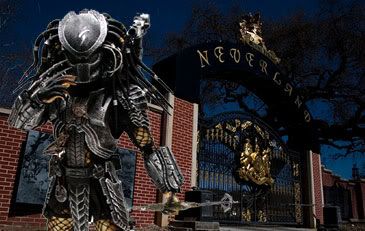 A predator outside Neverland Ranch (20th Century Fox, terrastories.com)
Predators, also known as Yautja and Hish, are thought to have visited the Earth numerous times throughout history, being treated as gods by some cultures, such as the ancient Egyptians and Aztec civilisations, whose pyramids may be a tribute to the predators. They are known to use a unique form of camouflage technology when hunting.
Although not widely reported, the story of predators' interest in Jackson could be backed up by reports of UFO activity around Neverland Ranch.
California Governor Arnold Schwarzenegger, one of only a few known to have defeated a predator, commented only on Michael Jackson's career, saying 'Michael was a pop phenomenon who never stopped pushing the envelope of creativity… Michael was a great entertainer and his popularity spanned generations and the globe.'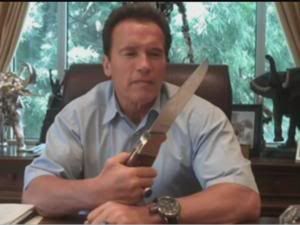 Governor Arnold Schwarzenegger (Yahoo! News)
Governor Schwarzenegger also promised to help the Jackson family with funeral and memorial plans, but is so far yet to comment upon the interest predators may have had in Michael Jackson.