Thursday, June 11, 2009 01:25:05 PM
Posted By Dann
Governor-General
Quentin Bryce
has
previously been suspected
of spending a lot of time Googling her own name, but this suspicion was all but confirmed with Ms. Bryce publicly performing a search while
opening Google's new Australian headquarters
in Sydney.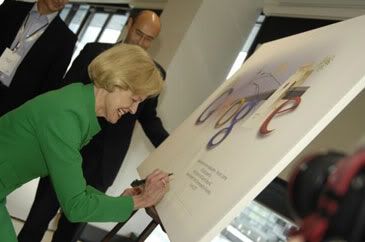 Quentin Bryce signs Google plaque (PCWorld)
Ms. Bryce toured the new office – conveniently located across the road from Star City Casino – this week and signed a piece of Google-themed artwork to mark the opening. She later searched for references to herself via the new communications platform Wave with head of engineering, Alan Noble.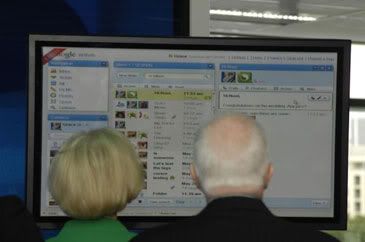 Quentin Bryce and Alan Noble search the internet (PCWorld)
Meanwhile, police in California have not identified a link between the Governor-General, the opening of Google Australia, and the death of one of Google's early mentors, Stanford University professor Rajeev Motwani. Professor Motwani, who mentored Google founders Larry Page and Sergey Brin during the development of the search engine, was found dead in the swimming pool of his California home this week.