Monday, June 8, 2009 12:09:51 AM
Posted By Dann
Twittering Opposition Leader Malcolm Turnbull bragged that he spent several weeks during 1978 at Playboy magazine's Chicago headquarters while negotiating the purchase of rights for an Australian edition of the magazine.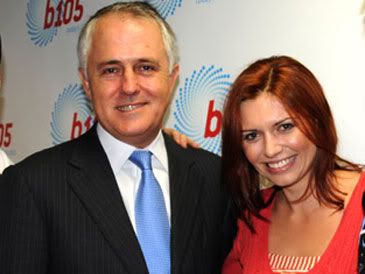 Malcolm Turnbull with radio's Camilla (B105)
Mr. Turnbull's recollection of the visit lost credibility, however, when he admitted 'I didn't meet Hugh Hefner, I didn't go to his house.'
'I met his daughter, Cindy, who's a very serious business executive, and a number of other business executives there,' Mr. Turnbull clarified, though most people would just have called such executives 'Bunnies.'
'I'm afraid to say I haven't had a Scores moment,' said Mr Turnbull, conceding that his Playboy visit is unlikely to bring him the kind of praise given to Prime Minister Kevin Rudd when it was revealed that he visited the Scores Gentlemen's Club during a visit to New York in 2003.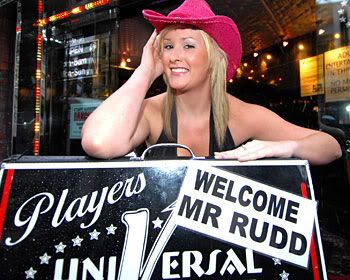 Players Lounge welcomes Mr Rudd (AAP)
News of Mr. Rudd's strip club jaunt, revealed during his 2007 election campaign boosted his public support, and prompted invitations from local nightclubs. Mr. Turnbull's Playboy tale is not expected to have a similar effect.