Tuesday, January 20, 2009 01:45:26 PM
Posted By Dann
Barack Obama (formerly Baracké Ubama) was today sworn in as the forty-fourth President of the United States of America in a lavish ceremony which lasted for hours, visibly boring Obama's daughters, Malia and Sasha. The ceremony included a drawn out concert featuring acts including
1995 Grammy Award winners
U2, Sheryl Crow and Bruce Springsteen, as well as Beyoncé and will.I.am. After a campaign in which ballot papers bore the name '
Barack Osama
,' and interview subjects on 60 Minutes declaring that 'Barack Hussein Obama is not an American name,' thousands turned out to celebrate the inauguration. Alan Freeman of North Carolina was so inspired by Barack's impending presidency that he sported a likeness of Mr. Obama on the back of his skull (pictured below.) It is unclear whether the anomaly was naturally occurring or an intentional style.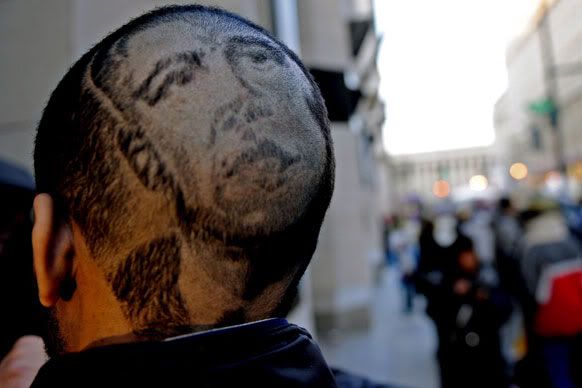 Alan Freeman (AAP)
Locally, followers of Obamerama were able to view the parade and ceremony on public screens throughout the country, and special attention was given to Michelle Obama after a local cosmetics company boasted that they were providing exclusive make-up tips for the first lady during the ceremony and ensuing ball. For the Obama daughters, more exciting than the tiring day of ceremony was the repeated promise of being awarded a puppy by their parents when they move into the White House. However, the publicised search of animal shelters has been delayed by Malia's allergies to certain breeds of dog.
Hours after the parade and ceremony, doctored photographs and rumours were yet to emerge, in contrast to the string of such sensationalism surrounding Mr Obama's political campaign. As such, LND.com can show this exclusively doctored image, showing Mr Obama and Vice-President Joe Biden walking the parade route.
Barack Obama and Joe Biden (LND)