Thursday, May 28, 2009 02:03:37 PM
Posted By Dann
Prime Minister Kevin Rudd and the Federal Government have once more come under criticism from members of the Opposition for spending, this time seen as little more than 'self-promotion.'
Since coming to power, the Rudd Government have rolled out funding to schools across the country, in what Education Minister Julia 'Gilla Monster' Gillard has called 'the biggest school modernisation project this country's ever seen.'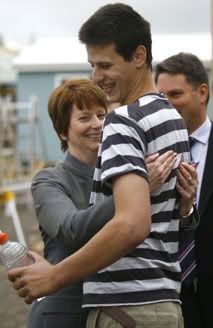 Education Minister Julia Gillard with student (Reg Ryan)
'Schools will obviously want to have a celebration when their brand new gymnasium or 21st century library or classrooms are finished,' Ms Gillard said.
These celebrations will in most cases take the form of launch ceremonies for the opening of new buildings, with the unveiling of commemorative plaques, said to have cost the Government more than $3.5 million in total. Opposition education spokesman Christopher Pyne has branded the exercise as the spending as nothing more than the creation of photo opportunities.
'This Government is all about spin and self-promotion and trying to get itself re-elected,' Mr. Pyne said. 'So the fact they'd spend $3.75 million on plaques and signs and self-promotion - every dollar of which is borrowed - should come as no surprise to anyone. You would think that they would be embarrassed enough to say "Well, let's not borrow $3.75 million to promote Julia Gillard and Kevin Rudd."'
Mr. Pyne has recent history of being argumentative with Prime Minister Rudd, having this been forced to withdraw an insult made to Mr. Rudd in Parliament. While answering a question regarding the Government's debt strategies, Mr. Pyne interrupted with 'Answer the question, Mr. Squiggle!'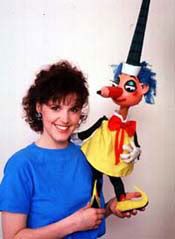 Miss Jane and Mr Squiggle (ABC)
Meanwhile, Mr. Rudd was accused of demeaning the office of the Prime Minister when he used large pictures of renovation projects in schools to demonstrate how money was being spent. Opposition front-bencher Julie Bishop deemed the pictures 'silly props.'
'I've never seen a prime minister stoop to the sort of silly antics that we saw this week,' Ms. Bishop said.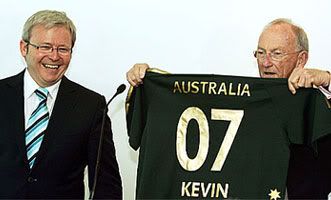 Kevin Rudd being presented with a cricket shirt (cricket.org)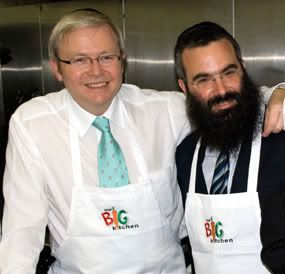 Kevin Rudd and Rabbi Dovid Slaven(The Jewish Star)
It is evident, however, that props have been an important part of Mr. Rudd's political success. Photographic evidence shows that Mr. Rudd has for some time utilised props whenever possible.
| | |
| --- | --- |
| (Alan Porritt, AAP) | (Kym Smith, news.com.au) |