Friday, September 4, 2009 11:55:37 PM
Posted By Dann
The Herald Sun today published an image of Water Minister Tim Holding returning to parliament with the caption 'Hero's return.
Mr. Holding was reported missing on August 31 and spent two nights on icy Mount Feathertop, Victoria's second highest peak, before being rescued early on September 1.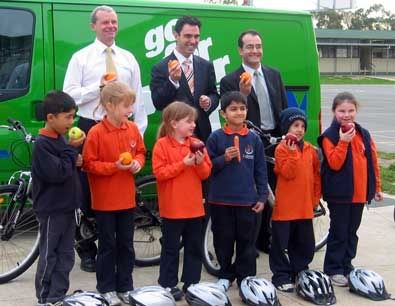 Tim Holding (back row, centre) (Bicycle Victoria)
The Funk & Wagalls Dictionary definition of hero is 'One idealised for superior qualities or deeds of any kind,' 'the principal male character in a drama, fictional work, etc.,' 'a man of great notability... in classical mythology or legend...' and 'a sandwhich made with a loaf of bread cut lengthwise.' Mr. Holding does not seem to meet any of these criteria, some of which might be more aptly applied to his rescuers.
Mr. Holding's mother Caroline expressed gratitude and relief at her son's rescue, thanking rescue teams 'ever so much from the bottom of our hearts.'
Search and rescue teams may have been initially doubtful of the success of their mission, given the limited information they were provided in their final briefing prior to the search.
'The missing person... It's Tim Holding,' Sgt Vic Velthuls of Victoria Police Search And Rescue said to officers and volunteers. 'I think everyone knows who he is and his description, so we won't go into that."
Other media outlets had already published reflective statements about Mr. Holding prior to his rescue.